Mark the date:
15. November 2010
! This Monday will be packed with
3 exciting mobile events
all taking place at the same location at
Grey's in Düsseldorf
:
Mobile Unconference
Vodafone Developer Day
MobileMonday
This is a great opportunity to learn more about many mobile development topics and get in touch with mobile enthusiasts from all over the world.
So join us for an exciting and informative day!
1. Mobile Unconference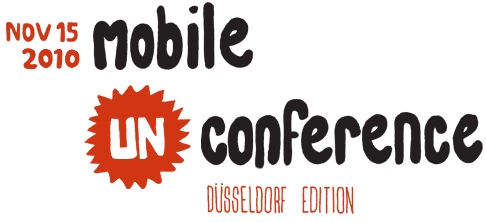 The day starts with the
Mobile Unconference
. Meet other developers, entrepreneurs, startups and technology companies to discuss the latest trends in mobile software. No frills, no strings attached, no
marketing-speak, only regular folks who make the mobile world more interesting every day. This is an UNconference and it's all about its participants - anybody can grab the microphone and talk about something interesting there!
Sign up here:
http://www.mobileunconference.com
2. Vodafone Developer Day
Parallel to the Mobile Unconference and at the same location our developer friends over at
Vodafone
and
Appseleration
organize a developer day covering the following topics:
Introduction to Vodafone developer
Developing with JIL/WAC
Cross Platform development and live demo
Debugging tips and tricks with Ripple Emulator
Testing on real devices with the Perfecto Mobile Cloud
Bringing your apps to market
3. MobileMonday
The day ends with the Düsseldorf edition of MobileMonday. This time the topic will be
Mobile Health
. Learn more about the global mobile healthcare market and meet interesting people - networking till the ambulance arrives ;)
Find more details at the
MobileMonday Website
and please make sure you
sign up there separately
!
Get ready for the mobilest day this year!
We hope to see you on Monday in Düsseldorf!
PS: Please repost and
retweet this!