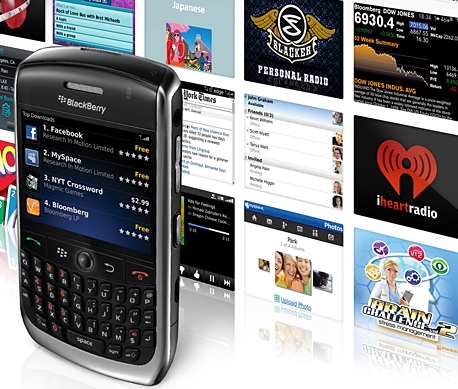 On July, 31, RIM has officially launched their app store
Blackberry App World 1.1
now also in Germany, Austria, France, Italy, Spain, Ireland, Luxembourg, Belgium, Portugal and the Netherlands with enhanced features, such as:
sorting options (newest, name, price, vendor, popularity and relevance),
filtering top 25 free and paid apps,
additional categories and sub-categories and
SD card archiving for downloaded and purchased apps (customers can now reinstall deleted apps from their memory card).
Blackberry App World is now available in five languages: English, French, Italian, German and Spanish. By selecting their country, customers can download apps from third-party developers in the their own language.
Please also have a look at some screenshots of the new features in App World 1.1:
Blackberry Blog
To download the Blackberry App World application please go to:
Developers who want to submit their apps to Blackberry App World need to login to
na.blackberry.com
. They can offer different versions of their app in different languages and for different Blackberry models, add localized descriptions and can select availability by country.
Developers receive an 80% revenue share and currently there is another incentive for developing an application:
In the run-up to the
BlackBerry Developer Conference
the
BlackBerry Partners Fund
organizes a contest and chooses the most innovative Blackberry application. By submitting a Blackberry app to the Blackberry App World between June 1, 2009 and September 25, 2009 developers have the chance to
win 100.000 USD
. Additionally, one Grand Prize Winner and one Runner Up Winner will also be awarded. The Grand Prize consists of a cash prize of $75,000 plus a $25,000 Grand Prize Package. Get full contest details here:
The BlackBerry Partners Fund Developer Challenge
And save the date for the second annual
BlackBerry Developer Conference
: November 9-11, 2009 in San Francisco, California.
Sources: Blackberry Blog BlackBerry Developer Conference The BlackBerry Partners Fund Developer Challenge intomobile.com