According to
Telephia
MapQuest Mobile
(21.9 %) was the top revenue-generating downloadable mobile application in the first quarter of 2006. In second position came
The Weather Channel
(5.7 %) and in third the
Verizon Superpages 2.0
(5.3 %). Two music applications, Music Choice and Sirius Music, rounded out the top five with revenue shares of 5 % and 4.8 %.
"Local maps/directions and up-to-date weather are well-suited to delivery via mobile phones because they are information needs characterized by immediacy, location-specificity, and time- sensitivity," said Kanishka Agarwal, Vice President of New Products, Telephia. "Downloadable mobile applications present a significant opportunity for higher ARPU [Average Revenue Per User], with more than 3.3 million mobile consumers downloading these applications during the first quarter of the year."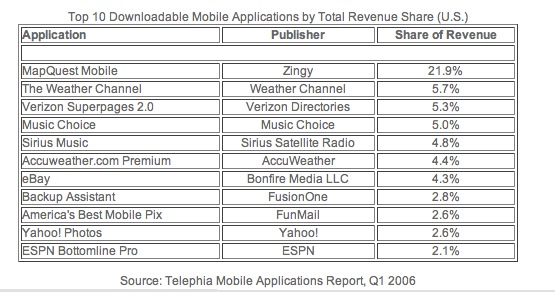 (Data does not include revenue for mobile TV and mobile game applications which is reported separately)
Another interesting fact is, that maps/directions applications drive repeat purchase revenue, while entertainment applications claim highest revenue share for first-time purchases:

Maps/Directions and Weather applications are leading in repeat purchases. In contrary, nearly 30 % of first-time purchase revenues were driven by the Entertainment category, with streaming music mobile applications, Music Choice and Sirius Music, securing the highest new purchase revenue share at nearly 9 % and 8 %.
Sources:
http://www.cellular-news.com
http://www.telephia.com