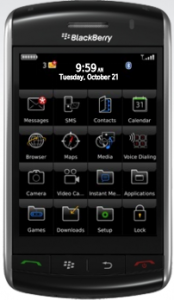 During its first
BlackBerry Developer Conference
co-Founder and co-CEO of Research in Motion Mike Lazaridis unveiled plans for an
online application store for its smart phones
. The store will launch in
March 2009
and will include both an
online
and
on-device component
giving 20 million BlackBerry users on all platforms the opportunity to find and download add-on applications for their specific phone models. RIM is working with PayPal to build the payment system for the store.
"A new online application storefront and a new on-device application center will help application developers and carriers reach millions of BlackBerry smartphone users worldwide and will provide consumers with greater choice, enhanced application discovery and an easy method for managing installation, upgrades, and purchases." (source:
press release of RIM
)
In December this year developers can begin submitting their applications. The storefront will allow them to set their own prices for applications. Developers will get 80 percent of the revenue generated from their application.
Furthermore, RIM will work closely with carriers to create customized, on-device application centers for their subscribers.
"The BlackBerry platform enjoys strong roots in the enterprise market and we continue to invest for growth and success with our enterprise channel partners, but the introduction of more consumer-friendly features in BlackBerry smartphones has clearly helped generate a groundswell of interest with new developers that has already resulted in the introduction of thousands of consumer and lifestyle oriented applications for BlackBerry smartphones," said Mike Lazaridis. "The new BlackBerry application storefront and BlackBerry application centers will further support the growing BlackBerry ecosystem and help bridge consumers with developers and carriers as more and more innovative and interesting applications arrive."
Another important part is the
BlackBerry browser
. The BlackBerry browser version 4.6 (e.g. Blackberry Bold) will operate much more like a desktop browser and supports HTML, XHTML, CSS, Ajax and DOM L2 code. With this move RIM hopes to see more application developers helping to grow the online and on-device stores.
For more information about the BlackBerry application storefront check out:
www.blackberry.com/storefrontinfo
Sources:

RIM press release
cnet.com
heise.de
internetnews.com